Hej guys, it's been a while since last there were some fertile discussions on these forums, so I thought I let you know what I thought when reading through these two new arrivals in my RPG library and what I think are good lessons in RPG rulebook-layout and rules design that can be learned from the two examples:
Trudvang Chronicles
I backed this game mainly due to the gorgeous artwork. Look at it... It's just... breathtaking... I'd immediately love to go hiking in some nordic woods...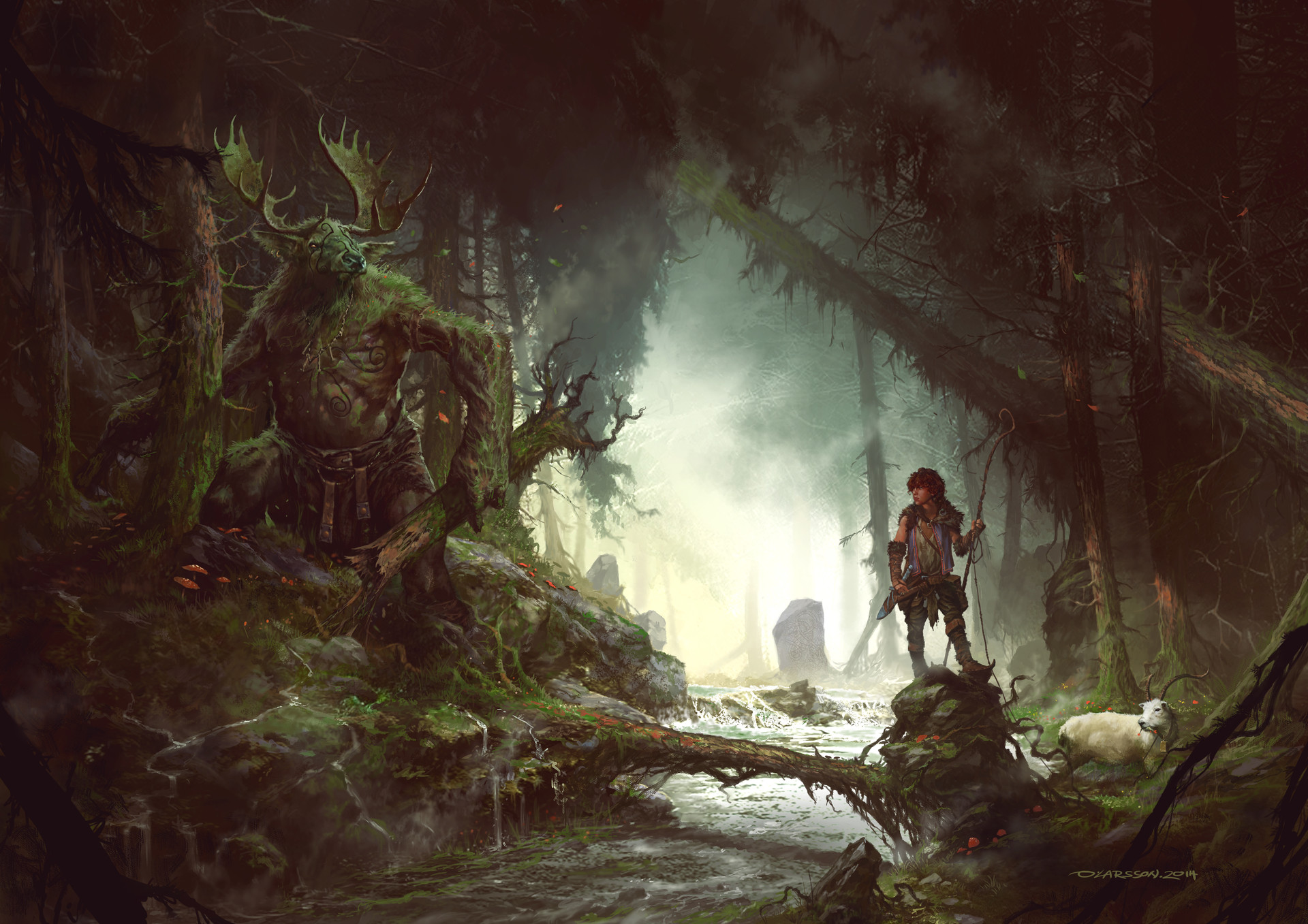 Anyways, I was disappointed when flipping through the rules. The reason for this are lack of focus and campaign aid. Let me explain myself:
First topic: Focus
The rules are so utterly generic, it hurts my feelings to see this bland ruleset in combination with the outstanding art and background. Yes, the rules are not old D20 ruleset at least, but not much better. Written in the project description, the combat rules sounded a bit TROS-y, though I was much mistaken:
Heroes and monsters have hit points (though they don't improve much for PC's like in D&D, heroes basically never improve on hitpoints).
Characters have some kind of combat point "pools". They can be split into several sub-totals for multiple actions during one combat round. If you do an action, the sub-total that you reserved for the action (like attacking or parrying) is the max for a simple d20 test (like in DSA - The Dark Eye actually, but more dynamic). It looks like a total mess in all combat examples, as there are several sources of these combat points and many of them are exclusive for certain uses. Like the specialization for weapon fighting provides points only when using weapons or other skills that provide only points for movement actions, etc.
The only things apart from combat that are - a wee bit - different are:
The addition of rules for fear (characters accumulate fear points when fighting fearsome foes, suffering some penalties with increasing points until they become mad at 51+ points...).
Rules for wilderness travel ("trapper's life"). These are VERY disappointing: they're basically just counting days until you have to roll some survival tests that just tell you how many more days you have before dying in the vast landscape of Trudvang. In The One Ring, they introduced an innovative travelling system with different roles for the party members and possible outcomes and ideas for complications and so forth. Yes, these may feel a bit boardgame-y, but at least they are tailored for a travel-heavy world and support the fiction! They provide help for the lone game master on how to challenge the players without just rolling on random monster tables day after day...
The magic and prayers system. These magic/prayers reminded me heavily of the Rolemaster spell lists with the twist that all magic is supposed to cause a mirrored negative/positive effect based on the spell in question (you heal someone, someone/-thing else in the vicinity is hurt; you damage someone, someone/-thing else in the vicinity is healed; you magically submit a message, somewhere in the vicinity, some meassage is misunderstood/not delivered; etc.).
I would have wished for a rules system that supports the fiction. That links into the background world somehow. Something that helps to feel the danger, vastness and loneliness out there in the woods. The mistrust in violent and (wonderfully alien) human cultures and the wickedness and twistedness of the strange creatures of the forest.
Second topic: Campaign aid
The campaign section of the GM book provides a lot of wildlife texts (most fluff texts for the different environs of Trudvang plus the super slim trapper's life rules mentioned above) and a guide on how to distribute adventure points. Nothing else... ... ...
My first guestion was: How are you supposed to manage the balancing act between the endlessness and hostileness of Trudvangs beautiful environment and background world and the fact, that roleplaying is about interaction? What do the "heroes" do in this "empty" or at least very much hostile world?
The answer to my question on the forum was: Just use adventures from other viking roleplaying games and you are good to go... That's NOT what I think is a good answer, because these adventures - available though they may be - do not convey the specialness of Trudvang in particular. They convey a generic viking experience. Where is the world-specific advise?
People coming from a D&D background frequently ask on the forums about "challenge levels" of the monsters... I couldn't care less about building fair encounters, I'd just like to have some support on how to convey the fiction without boring my players to death. After one or two sessions I'd be out of options to describe all those wonderful nature, transport the setting into the next big city and just skip the nature part... Maybe I'm not creative enough for this game.
Anyways, let's have the look at the other spoil of shopping:
Blades in the Dark
I didn't back this game when it was on KS, just didn't notice it or maybe saw it without being aware what gem would become of it. Anyways, I read about it somewhere else and bought it on DriveThrough and...
...it is just ingenious. It's an easy to learn, creative sandbox with rules specifically and carefully tailored for one narrowly focused kind of fiction. The PC's are a crew of scoundrels in a post-apocalyptic gloom-/steampunk city named Doskvol or Duskwall, starting from a small "garage operation" and being able to follow their agendas up along the ladder of the criminal underground.
There is a non-exhaustive list of ingenious mechanics like:
The "crew" (group of PC's) is a character of its own. The group can be choose a crew type like Assassins, Bravos, Hawkers, Thieves, a Cult, etc. - which provides the type of adventures they are getting crew-xp's for. This is basically like the "group-drive" (speaking in S&S terms). They can level up the crew, claim turf and special locations like brothels or temples, etc. (would be an idea anyways to have Group Drives, wouldn't it?)
Characters are chosen from "playbooks", which - like crews - are also kind of reminding of S&S, because those playbooks specify which methods of problem-solving provide xp for the character (violence for a Cutter, technical skills for a Leech, stealth for a Lurk, etc.). It doesn't matter which playbooks form the crew. You could play a crew of Smuggler with two Cutters for example. Those Smugglers would just use a lot of violence and coercion in order to bring their wares from A to B...
All the things going on and which are related to the crew's experience are tracked in "clocks" and proceed as a result to the crew's actions or just because the gamemaster tells a story with them. They provide numerous anchors for adventure and tell the players that they are not alone in the city. And the PC's can chose to interfere with these happenings or follow their own devices, just as they see fit (though clocks are also used to track short-term actions, like combat, lockpicking, sneaking past guards, etc.)
In order to get extra dice, player's can accept a Devil's Bargain, presented by the GM or other playaers. These are disadvantages in relation to the action in question that they can impose unto themselves in this way.
My favorite is Flashbacks. Especially in games, where the group is planning and conducting heists a lot, this planning can take hours and hours, just to break down completely with the first encounter on their way to the goal and dissolving into chaos and mayhem. Instead, in BitD, the players set a certain tectic (assault, deception, stealth, etc.). Together with the plan comes one detail: Where do we assault? What is the angle of the deception? And then starts the score... An initial engagement roll determines the starting situation. How is the entry going? Any immediate complications? Then, its a flow of action, complication and reaction going on and on until fulfillment. Any time the group faces unforeseen obstacles though, the PC's can introduce flashbacks. These are basically the same as narrative effects you could buy for Drives in SaS, but instead being attributed to sheer luck, the player explains how he prepared for the provision to be there. Instead of "I jump out of the window on the hay cart, driving by miraculously in this very moment" the player describes a short scene where he prepared for the cart to be there in time. It feels professional. Like the Ocean's movies.
In relation to the Trdvang example above, BitD delivers everything what I missed and more:
First topic: Focus
BitD is the definition of focus: the scope of the fiction is clearly defined as per above and the rules are tailored to it. Many "hacks" are now being generated by fans labelled "Forged in the Dark"-hacks under the umbrella of the publisher to cater for different tastes, but every single successor system is still focused.
This means for sure that there is not so much freedom as in S&S. While S&S lets the player choose Drives from an infinite number of open ideas and lets you play campaigns from stone age into the renaissance and from military backgrounds to the intrigues at court out of the book, BitD lets you choose the general vibe of the campaign: Want to kill people? Play an Assassin crew. Want to deal with illegal goods and their transportation? Play a crew of Smugglers. etc. But in the end, all crew types are made up of scoundrels in the gutters of this one city.
Second topic: Campaign aid
John Harper (the author of BitD) included an extensive chapter on how to play BitD. Which is very much appreciated, as the system is much different than any other RPG I played before (though with some similarities to the premises of S&S). He has a chapter of best practises and advise for players and one for the GM.
All in all, the mechanical side of BitD can look a bit ... well, mechanically. But in fact, at least watching John Harper GMing on Twitch or Youtiube, you can see the gears working together to inspire the fiction and deliver action at all times.
---
Anyways, this is not to say that BitD and SaS are in any way redundant, but they are similar enough in player-driven-fiction-focus to learn from each other. And also from the faults of Trudvang. I'd just wish SaS to include a chapter where the GM and the players get some advise on how this particular system works best in the form of best practises.
What do you think?